×
This website uses cookies. By using the site you are agreeing to our Privacy Policy.
FUJIFILM Wako Chemicals U.S.A. Corporation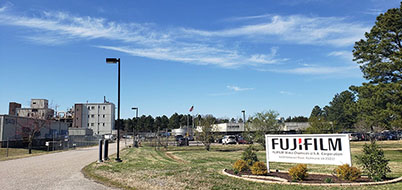 Wako Chemicals USA Inc. started operations in the United States in 1981, as a wholly-owned subsidiary of Wako Pure Chemical Industries, Ltd., Japan.  After Wako's worldwide operations were purchased by FUJIFILM, the business model was updated as synergies developed. 
FUJIFILM Wako Chemicals continues to manufacture and sell a variety of specialty and laboratory chemicals in association with FUJIFILM Wako Pure Chemicals LTD of Japan, and in late-2020 FUJIFILM Wako Chemicals expanded its offerings of automated laboratory solutions with the integration of FUJIFILM Wako Automation Corporation. 
FUJIFILM Wako Chemicals U.S.A. Corporation strives to assure our customers' and vendors' success through:
Integrating our international cultural attributes
Supplying unique and innovative quality products
Committing to safety, employee effectiveness, the highest level of integrity and a strong sense of public responsibility
Our History
2020-Today

FUJIFILM Wako Chemicals USA, Corp. became a subsidiary of FUJIFILM Holdings USA. This is the sales and manufacturing operations in the Americas for FUJIFILM Wako Pure Chemicals Corp. of Osaka, Japan. The headquarters is located in Richmond, VA and consists of the following divisions, Laboratory Chemicals, Specialty Chemicals, LAL, Automation, and Export.

2012 - 2019

The HTS Division was split from Wako USA and incorporated as Wako Automation USA, Inc., a California corporation. The LAL Division receives FDA approval for the production of PYROSTAR™ ES-F for specific determination of gram negative bacterial endotoxin. Wako USA purchase the building in Cape Charles, VA housing the LAL Division's Horsehoe Crab Bleeding Facility.

As part of a corporate reorganization, Wako Holdings USA, Inc. was formed. Three corporations were created under the holding company: Wako Chemicals USA, Inc. (Specialty Chemicals, Laboratory Chemicals and LAL Divisions), Wako Life Sciences, Inc. (formerly Wako USA's Diagnostics Division) and Wako Automation USA, Inc.

2008 - 2010

The LAL Division moved all operations from St. Louis, MO to Richmond, VA. FDA approval was received for the LAL production facility.

Wako Chemicals USA entered into an asset purchase agreement with Kalypsys, Inc., whereby the group was renamed the HTS Division.

The LAL Division obtains FDA approval for the production of LAL on new automated filling/stoppering and capping/labeling machines, a change from a one-step to a two-step lysing process, and batch volume increase from 10 liters to 14 liters at the Richmond, VA facility.

2001 - 2006

Wako opens the new Horseshoe Crab Bleeding Facility for the LAL Division in Cape Charles, VA.

Construction completed for a new Specialty Chemicals' photographic intermediates production facility, the expansion of the warehouse, and the new lab building.

The parent company, Wako Pure Chemical Industries, Ltd. Opens the Mountain View R&D Center (MVRDC) in Mountain View, CA to develop new items for the Diagnostics Division. The Diagnostics Division opens an office in Mountain View, CA located in the same facility as Wako Japan's MVRDC.

The Haemachem Division is renamed the LAL Division.

1990 - 2000

The production plant was built and started manufacturing V-50 in 1990. Since then, Wako Chemicals USA has been supplying the V-50 initiator to superabsorbent polymer manufacturers not only in the USA, but also internationally. Before 1996, Wako's manufacturing sites for laboratory chemicals were only in Japan. Wako Chemicals USA expanded the plant operations to include laboratory chemicals, especially biochemical reagents.

Electronic chemicals are one of product lines in Wako's specialty chemicals. Wako's ultra pure hydrogen peroxide, HIRINPER, is a cleaning solution used for the removal of contaminants and impurities from the surface of silicon wafers.

1981- 1989

Wako established a wholly owned subsidiary, Wako Chemicals GmbH, in Germany in 1974. Wako founded the second overseas subsidiary, Wako Chemicals USA, Inc., in 1981. Wako's three lines of products imported from Japan were marketed in North and South America through Wako Chemicals USA.

As the demand for one of our specialty chemicals, the V-50 polymerization initiator, increased, Wako decided to build a manufacturing plant in the USA in order to strategically supply the V-50 initiator to our customers internationally. Wako selected Richmond, Virginia, as the site for the first US production plant. Wako Chemicals USA closed the Dallas office and relocated to Richmond in 1989.
Press Release
FUJIFILM Wako Pure Chemical launches mutation detection kits for SARS-CoV-2 "N501Y" and "E484K"

TOKYO, March 29, 2021 – FUJIFILM Wako Pure Chemical Corporation (President: Kazuo Shiraki) is pleased to announce the launch of the "N501Y mutation detection kit" and "E484K mutation detection kit" today. The research reagents are based on the One Step RT-qPCR method* to detect SARS-CoV-2 variants at a high sensitivity.

Shibayagi Co., Ltd. became a wholly-owned subsidiary of Wako Pure Chemical Industries, Ltd.

RICHMOND, 14th of October, 2016 - On January 15, 2016, Shibayagi Co., Ltd. transferred its stock to Wako Pure Chemical Industries, Ltd. (Wako) and became a wholly-owned subsidiary of Wako. We will keep growing in life science fields, especially in mental and nervous diseases related areas we focus.

Two Richmond Companies Selected to Participate in Virginia's VALET Program

RICHMOND, 14th of January, 2015 - The Virginia Economic Development Partnership (VEDP) today announced the acceptance of two Richmond companies, sweetFrog Enterprises LLC and Wako Chemicals USA, Inc., into its two-year Virginia Leaders in Export Trade (VALET) program. Launched in January 2002, the program assists exporters in the Commonwealth that have firmly established domestic operations and are committed to international exporting as an expansion strategy. Participating firms are chosen based on their dedication to growth through export.